Deluxe Apartment
Deluxe Apartment is a two rooms apartment about 39m² or 420 sqf situated on the first floor. They are all equipped with air-conditionning and with private balcony (12m²-130sqf) on south exposure or with terrace (33m²-350sqf)on north exposure facing the medieval city walls.
The lounge is equipped with a separate sitting area ,working desk, phone, color TV with satellite-cable, DVD player, hi-fi system and CD player, in room fax-scanner-copier, minibar, …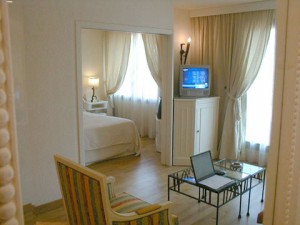 The bedroom is equipped with a queen size bed, color TV with satellite-cable, in-room safe and wireless phone. Another queen size bed can be dressed up in the lounge room on request.
On request, you can also have a functional and well equipped kitchenette with hob, extractor hood, microwave, dishwasher, fridge, freezer and coffee machine. Of course it includes all the glasses and china you will need to cater for four persons.
Bathroom is equipped with a bath-tub and a separate shower, water closet with telephone. It also provides ceramic hob, large mirror, hairdryer, …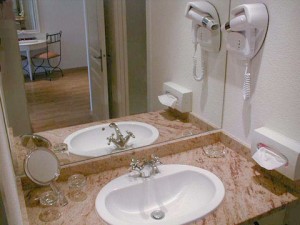 All apartment are equipped with a broadband (high speed) Internet access by WiFi. Each apartment has two telephone lines with its own call numbers and voicemail.
Click here to download inventory of our apartments [Acrobat Reader format, PDF]